Tune into Teletoon June 29th!
Canadian Moonies should tune into Teletoon beginning at 4PM ET/PT to catch sneak peeks of two new cartoon shows (maybe more?) featuring Sailor Moon VAs! The internet has been mum about the other shows on the previews that day – so we will be watching (and will keep you posted if we see any other actors)! Tell your friends to watch too!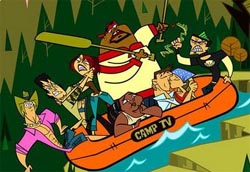 Emilie-Claire Barlow (Sailor Venus #2, Sailor Mars #2) will be playing Courtney on Total Drama Island. This Flash-animated cartoon is like the popular reality show Survivor but there's a twist: it's played with 22 teenagers at a camp in Northern Ontario! This show will have it's official double-episode premiere on July 8th at 8PM, and then will play at its regular time slot Sundays and Thursdays at 8:30 PM. Total Drama Island is the brainchild of 6teen creators Tom McGillis and Jennifer Pertsch – fans may recall Emilie-Claire played Chrissy, the manager of the Khaki barn in that show! The show's official production blog has put up a lot of animation masters and other goodies for fans to check out before the show hits the airwaves.
Coconut Fred's Fruit Salad Island will finally have it's long-awaited Canadian network premiere on July 2nd! This one is about a coconut named Fred who can materialize anything he thinks about. Fred's imagination knows no bounds, and he takes his friends (who are also different fruits) on the strange adventures he conjures! And it looks like video gamers could get something out of this as they are dressed up as some well-known characters in an episode. Tracey Moore (Sailor Moon #1) plays the scaredycat Bingo Cherry! This show will air Monday through Friday at 10AM ET/PT, and then on Saturdays at 7AM ET/PT. The other thing about this show is that it is not a newer cartoon – it was once part of Kids WB's schedule from 2005-2006.
A Winner of a Gracie Award is…
One other production involving a VA also won a Gracie! Why I Wore Lipstick to my Mastectomy won the Gracie for Outstanding Drama-Special. This made-for-TV movie starred Harvey Atkin (various Monsters of the Day) in the supporting role as Harvey. Congratulations to Lifetime Television on this win!

Hey Viz, Where's Mirmo?
Mirumo de Pon! (or rather its English Title, Mirmo!) was a 172 episode behemoth of an anime that aired in Japan from 2002-2006. The anime, based on the popular manga of the same name, is about Kaede Minami, a typical, teenaged girl who is shy around boys and finds it difficult to date them. One day while coming home from school, she picks up a blue mug from a mysterious store. When she gets back home, engraved in the bottom of the cup is a message that reads "if you read this message aloud while pouring hot cocoa into the mug, a love fairy ("muglox") will appear and grant your every wish." She doesn't believe this message, but tries it anyway. Lo and behold, a fairy named Mirmo appears, and he grants Katie's wishes! Later we find out that there are hundreds of Muglox, some good, and some downright evil! The English cast for this show is huge featuring a few VA's. Terri Hawkes (Sailor Moon #2) plays Anna, Mirmo's classmate and the smartest fairy of the fairy school, Stephanie Beard (Rini #2) plays Momo Umezono (Kaede's rival) , and Loretta Jafelice (Diana and Eudial) plays Rirumu, Mirmo's fiancee. There's lots of other famous voice talent in this show, including Veronica Taylor, Monica Rial, Wendee Lee, Brian Drummond, Tiffany Grant, and Nancy Cartwright (better known as Bart Simpson)! With all this talent, we have to wonder why Viz hasn't released this popular series on DVD yet – or why the show isn't on Kids WB anymore. The WB turned into the CW in fall of 2006, and considering that the anime ended in Japan in 2006, we doubt the series was shown in entirety on Kids WB since many things changed with the network. We encourage fans who want to see this show in more markets or on DVD to contact Viz!
Leave a Reply
You must be logged in to post a comment.